15th Annual Blues From The Top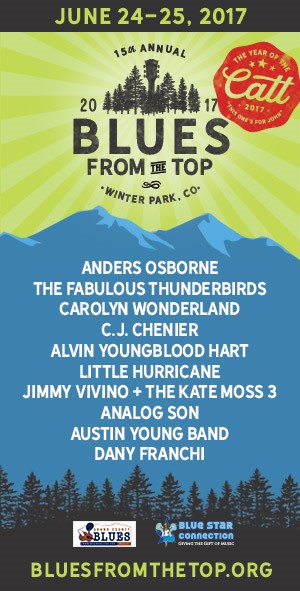 Blues From The Top
Blues From The Top is a major contributor to Blue Star Connection. Join us this year in Winter Park.
Winter Park, CO June 24 and 25th, 2017
www.bluesfromthetop.org
Anders Osborne, The Fabulous Thunderbirds featuring Kim Wilson, Carolyn Wonderland, C.J. Chenier & the Red Hot Louisiana Band, Alvin Youngblood Hart, Little Hurricane, Jimmy Vivino + The Kate Moss 3, Analog Son, Austin Young Band, and Dany Franchi with members of My Blue Sky. Plus The Future of The Blues Stage and nightly shows at Smokin' Moe's and Ullr's Tavern. Visit the website for more information on lineup, tickets and lodging.