Big NEWS!
The Healers, Live At Knuckleheads has been nominated for a 2014 Blues Music Award for "Best DVD"! No big surprise, considering the calibre of talent on this release, plus the rave reviews from fans and critics alike! Still, we're humbled and honored by this acknowledgement, and look forward to spreading the word of The Healers, and  that of Blue Star Connection. We'll find out if we won the prestigious award on May 8th, at the 2014 Blues Music Awards Ceremony in Memphis, TN. Wish us luck!
When you order your copy of the BMA-nominated release, here's what you'll get:
• A beautiful digipak DVD case, containing a CD & DVD of The Healers' LIVE performance at Knuckleheads in KC last November, plus an informative 8-page booklet.
• The satisfaction of knowing that all Net Proceeds go to benefit Blue Star Connection, Giving the Gift of Music Since 2005!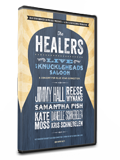 Purchase your copy TODAY! (They also make great gifts!!)
The Healers Live at Knuckleheads (DVD & CD Combo)
$30.00  (plus $5.00 Shipping & Handling within the U.S.*)
*Shipping outside of the U.S. will require a supplemental charge – usually about $8 USD. You will be contacted for this additional PayPal payment. Just takes minutes, and helps us cover our costs. Thank you.
"Nice job on the CD! Soulful performances, talented musicians and well mixed. I hope it inspires others to find their own ways to ease suffering and bring smiles to sick children." – Karl M.
"Just got my The Healers: Live At Knuckleheads in the mail Friday!!! Totally Awesome!!! Thank Y'all!!! ♥ It!!" – Chris L.
"Had the cd full blast yesterday. Knew it was going to be good & wasn't disappointed. The dogs & I rocked on!!!!" –Priscilla K.
Read more fan reviews (or leave your own comments) on the Healers: Live At Knuckleheads Facebook 'review' page!